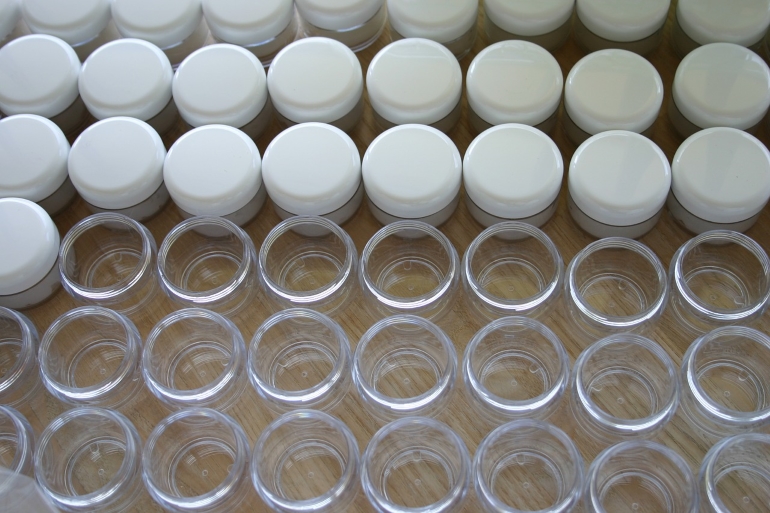 Water in cosmetics
Water is a key ingredient in the manufacturing of cosmetics products, and we have extensive experience in providing the water grades required for the production industry that makes people feel and look good.
This is the not only the case for cosmetic product manufacturing, but for all areas of cosmetic and personal care including skincare, oral care, hair care, personal care products and more.
Aqua is a primary ingredient across the broad spectrum of cosmetic products on the market. RGP recognises the challenges that cosmetics manufacturers face, and ensures the highest levels of quality control, while keeping costs to a minimum.
Good manufacturing practices are essential; water, either distilled water or purified water, is used in the production, for cleaning, energy transfer or as an active ingredient itself. RGP support this market by providing solutions to the filtration and water treatment challenges typically faced by the producers of these consumable items.
RGP water treatment solutions and services provide cosmetics manufacturers with the peace of mind that they can achieve a quick production turnaround while exceeding hygiene and quality control standards.
With the ongoing demand for greener standards led by both the government and the general public, all cosmetics organisations are faced with the challenge of adopting more sustainable means of working without driving up the cost of operation or risking safety and reliability. This not only has benefits for the staff through creating a healthier place of work, but also for the global environment in the battle to save water.
All manufacturing companies require a fully optimised end-to-end production process. We can help you to improve your production efficiencies by reducing downtime or increasing up-time and shortening changeover and swap cycles, so you can consistently meet performance targets. Here we describe some of the unique processes for different products in this industry:
Oral Care
Absolute rated glass fibre pleated cartridges (PPG) are used to give an excellent finish for mouthwash filtration. Liquid is pumped at high pressure and temperature to avoid crystals forming in the filling lines, making stainless steel housings the preferred choice.
Stainless steel mesh cartridges are used for toothpaste that is filtered through prior to packaging because the fluid is extremely viscous, and the filter cartridges are cleanable and reusable.
Perfume
Stainless steel cartridges are used to remove bulk and visible particulate. High-efficiency polypropylene pleated or polyethersulfone absolute rated pleated cartridges are then used as final polishing filters.
At the bottling halls, the product may be filtered once again to ensure particulate remains before packaging.
Pure Water Production
Reverse osmosis (RO) systems are used to produce pure water which provides a stable base before other liquids, scents, ingredients and colours are added.
Polypropylene or Polyethersulfone absolute rated pleated cartridges are typically used in the final stages of bottling for cosmetics and toiletries.
Cosmetics
The beauty industry generates a huge number of varied products with a high level of revenue associated and therefore product quality, as well as the branding of the products, is high on the list of requirements for their success.
Filtration is used in the manufacture of these products to ensure high product quality in appearance, use, consumer safety and shelf life. One example is for face powders which are compressed in large units and vent filtration is used on the tops of the filling tanks.
Liquid Production
For water-based soaps, shampoos and lotions pure water is used and therefore reverse osmosis (RO) or deionised (DI) water quality is required depending on the desired result.
When making lotions, bag filtration is used in the early stages to remove large deposits of unmixed product and anything that could produce an uneven finish. These are typically housed in stainless steel housings due to the flows, pressures and cleaning regimes involved.
How can we help?
From incoming raw water purification through to the final filtration before packaging, RGP supply filtration and water treatment systems and components tailored to the specific requirements of this wide-ranging market.
As a manufacturer, your customers expect high-quality products, every time, so it is essential that your water supply is always clean and reliable. We specialise in providing bespoke water treatment solutions to help you achieve your goals. Our open, flexible and agile approach means we can make a fast and sustainable difference to your business.
With the ever-increasing drive for operational efficiency and reducing costs, organisations in cosmetics require a production process that is fully optimised from end to end.
The ability to reduce downtime or increase up-time, shortening changeover and swap cycles can have a significant impact on clients' production in consistently meeting performance targets.
We will help you achieve reduced operating costs and solve any challenges that you face with production-related issues. We bring in new resources to help achieve improved water usage and more sustainable operations.
We supply, install and maintain all equipment from filtration, clarification, disinfection, reverse osmosis and more because our goal is to create an end-to-end solution that you can trust.
We can build and install tailored treatment systems for all your needs, cost-effectively to deliver you a rapid return on investment.
Talk to us about how you can secure your water supply and make considerable savings on your manufacturing costs through water treatment.
Our tailored systems help companies in all water areas make considerable savings by reducing maintenance and operating costs.